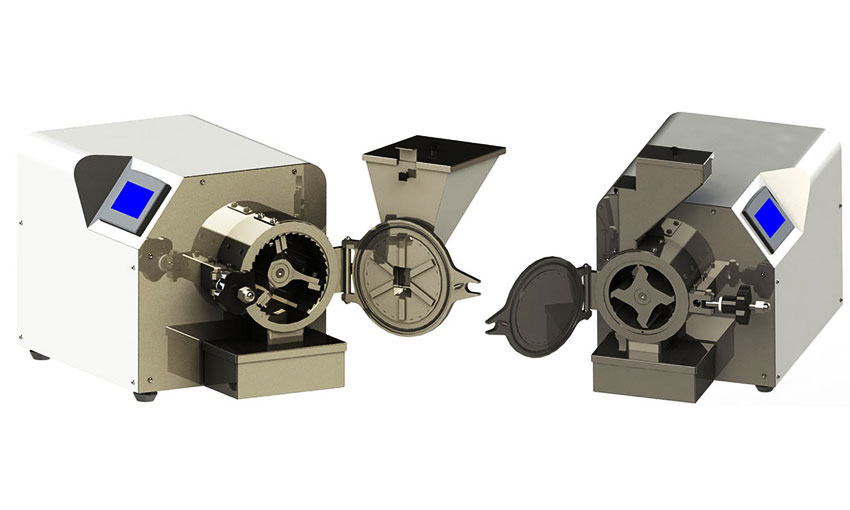 Laboratory mill

 for volume and size reduction in soft materials and fibers.

It is also useful for size reduction of solid and resistant materials.

Depending on the type of material, an impact mill is recommended for hard, semi-hard materials (rocks, minerals, electronic waste) or for highly fragile materials such as glass, glass, ceramics or animal feed.

The cutting mill is for solid materials, resistant or soft fibers (branches, straw, leather, plastics, rubber parts, secondary fuels, etc.).

> Round perforation screen, with a wide range of sizes.
> The screen is easily interchangeable, which optimizes the preparation time of the equipment.
> It has four stainless steel blades AISI-431 tempered.
> Equipment made of 304 stainless steel.
> Housing in painted steel.

Both laboratory mills are controlled by an automatism (PLC) with touch screen with the following functions:
• Manual control of mixing time.
• Automatic mixing time control, with 4 preset and user configurable automatic programs.
• 3 languages selectable (Spanish, English and French).
Advantages of Laboratory Mills:
Easy cleaning thanks to the toothed crown and interchangeable screens without keys.
Potentiometer to regulate engine speed.Loading hopper and product collection drawer in polished INOX, for easy cleaning.
Very fine final granulometry.
It includes:
Laboratory mill.
Connection cable.
Methacrylate collection drawer.
Manual User.
EC declaration of conformity.
Application examples for the laboratory mill:
Minerals.
fertilizers.
plastics.
metals.
seeds.
flowers.
herbs.
grains.
food.
wood shavings.
fibers.
leathers.
fibers.
rocks.
electronic materials.
rubber.
branches.
straw.
glass.