APOLO SACK TIP STATION VSIS-0800
In order to facilitate a safe handling for raw materials delivered in all types of bags, FILTRA has developed the APOLO series (Sack Tip Station). Its design prevents particle spreading within the environment, safeguarding the operator from dust surroundings. Its low profile allow the worker to handle it healthy and safely.
The Bag Tip Station allows controlling your process from the very beginning, due to its central electric vibrator, sieving the product with the desired opening. This is easy to dismantle and cleaning, as well as exchangeable, protected with a removable stainless steel grid.
The APOLO series has a complete dust hood range to cover all needs. They are steerable and modular, allowing an easy integration in your installation. In addition, this cabinet range permits for connection to a dust extraction to capture airborne dust particles before they can enter the clean environment.
The Bag Dump Screener System is manufactured in A304L or A316L if required. VSIS-0800 (high capacity, up to 3.000Kg/h). Suitable for FDA. BFM connectors and mobile under request.
Bag Dump Screener available in two capacities
Dust Cabinet
Easy to clean
Exchangeable sieves
Reduces material losses
Low maintenance
Screener with central electric vibrator
Steerable Dust Cabinet, see options
Bag Tip Table
User Manual
CE declaration of conformity
If the sieve shaker is going to be used in areas classified as being potentially explosive environments then it is manufactured with ATEX materials, and FILTRA will supply the corresponding ATEX certificate.
Available for 800 mm diameter.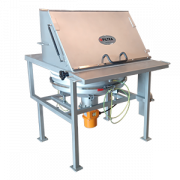 Apolo facilitate a safe handling for raw materials delivered in all types of bags.
TECHNICAL FEATURES
Voltage
(V)
r.p.m
Power
(kW)
Weight
(Kg)
VSIS-800
380/400
1500/1800
0,3
177,5