The SALOMON sieve "RO-TAP" performs the sieving process, reproducing the usual movements of the manual sieving: the combination of sieving lateral movements and the hitting on the top facilitates the passage of the particles of the samples, avoiding the filling of the product in the sieves.
You can choose with or without a protective acoustic cabin. Following European regulations, the sieve must be soundproof to avoid noise.
External frame with access door to the sieves equipped with acoustic insulation and security sensor (for the equipment when the door is open).
Metal support for screens with adjustable height.
Top metal lid.
Tapping arm located at the top of the sieves actuated with the sieving movement.
Digital module of drive.
Process start/stop switch.
General switch for starting.
Emergency stop button.
Digital timer sieving time.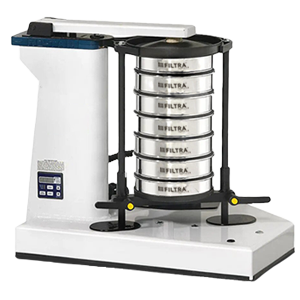 SALOMON Ro-Tap sieve performs the sieving process by reproducing the usual movements of manual sieving.
TECHNICAL FEATURES

Number of sieves (mm)
6 x Ø200 x 50 + 1 fondo
Revolutions / minute (r.p.m.)
278 ± 10 rpm
Tappings / minute
150 ± 10
Dimensions W x D x H (mm)
710 x 530 x 635 mm
Operation Voltage (V)
230V, 50Hz – 110V, 60Hz
Timer (Minutes)

1 – 99
Weight (Kg)
126
Arid
Chemicals
Pharmaceuticals
Seeds
Plastics
Wood